Bavarian music ✨  Musicians for hire in Berlin – Frankfurt – Munich ✨


Bavarian music with accordion and baritone horn | © bergvagabunden.com
---
Bavarian music for hire
Bavarian music is well known and loved all over the world – not only in Germany. Musicians from Bavaria bring you the warm sound of an accordion, combined with the sharp bass notes played on the baritone horn, and add some yodeling – and there it is: the unique music that makes you want to quench your thirst with a beer immediately. Whether it is a polka (oom pa music) or a waltz – grab your lederhosen or your dirndl and join the band!
---
---
Typical instruments
accordion

baritone horn (euphonium)

string instruments (guitar, upright bass, harp, cither)

brass instruments (trumpet, clarinet, horn, tuba)
Most Bavarians love music from Upper Carniola; songs like "Trompetenecho" are often part of the Bavarian repertoire. Categorys for Bavarian bands are e.g., Tanzlmusi, reception band, Stubenmusi, Oktoberfest band, etc.
---
---
Local musicians play Bavarian music in Berlin – Frankfurt – Munich
Bavarian music comes from Bavaria (Germany's south-east) and therefore is often played by local musicians in Munich, the Bavarian capital. But people love to listen to songs like "Auf der Vogelwiese" all over Germany, not only in Munich (find out more about corporate event entertainment in Munich). And visitors from other countries are delighted when they attend an event in Frankfurt or Berlin where they find a Bavarian band.
Main elements of the tradition and culture of southern Germany and western Austria are
music

clothes

drinks

food.
Another term is "Volksmusik" which means people's music. Modern Volksmusik combines traditional sounds and sometimes even yodeling with a contemporary beat, just like in the song "Sunny Yodel".
---
---
Thank you for visiting bergvagabunden.com, where you can find artists for your corporate events in Germany, Austria and Switzerland. You can book "Bergvagabunden" too for events in the UK/England/London/Ireland/Dublin and rest of Europe. Get in contact in case you need Bavarian musicians for hire.
---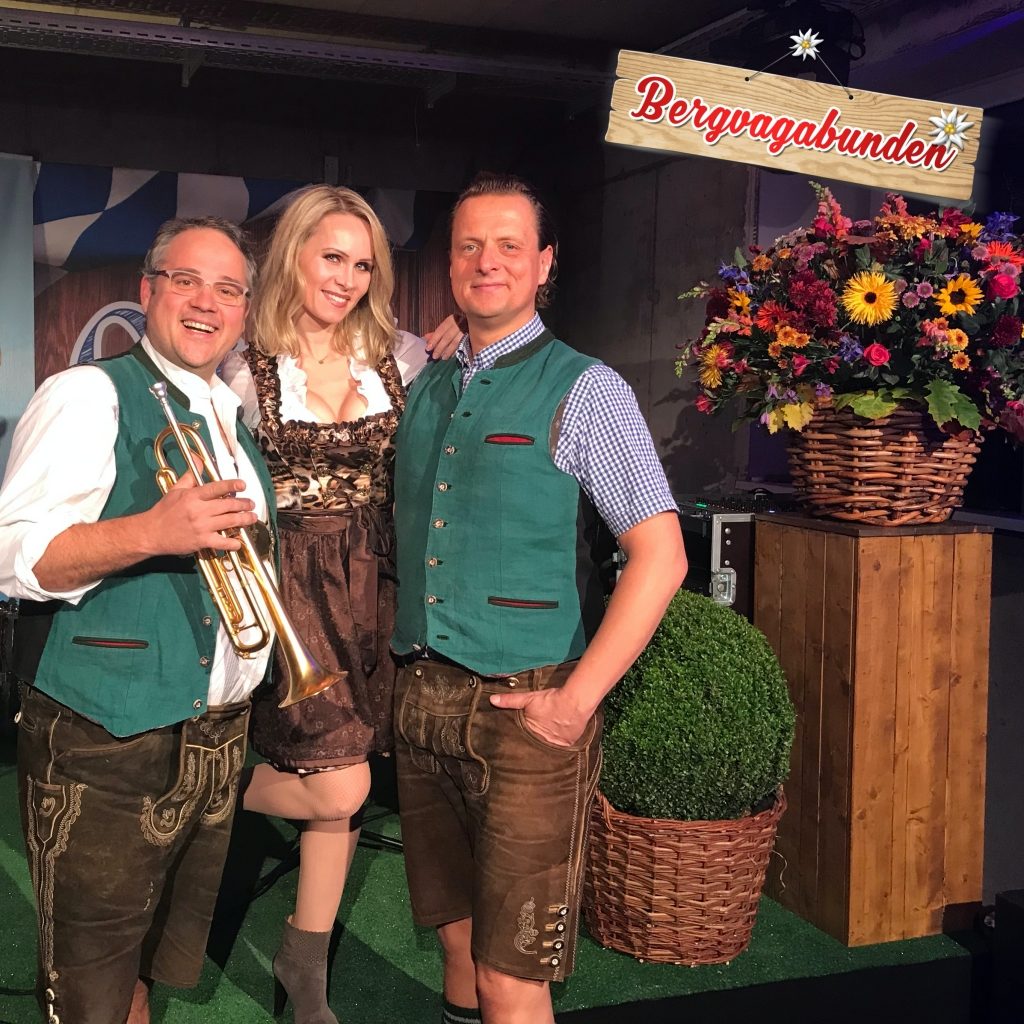 Bavarian musicians for hire in Berlin, Frankfurt and Munich | bergvagabunden.com
---
Questions we would like to help you with:
Which songs are famous in Germany?
How much costs a folk music band in Munich?
What instruments like Germans to play?
Is there an entertainment agency in Berlin?
What does Schuhplattler mean in English?
Where is the best event venue in Munich?
What is the best German brass band?
Where do I find dinner entertainers?
What about river cruises?
---
---
You might have found us because we use Google webmaster tools for our search engine optimization. This site is about musicians for hire in Berlin Frankfurt Munich with Bavarian music.
Jetzt bewerten!
[Total:

1

Durchschnitt:

5

]