Corporate dinner entertainment ✨ in Munich Berlin Frankfurt Dusseldorf ✅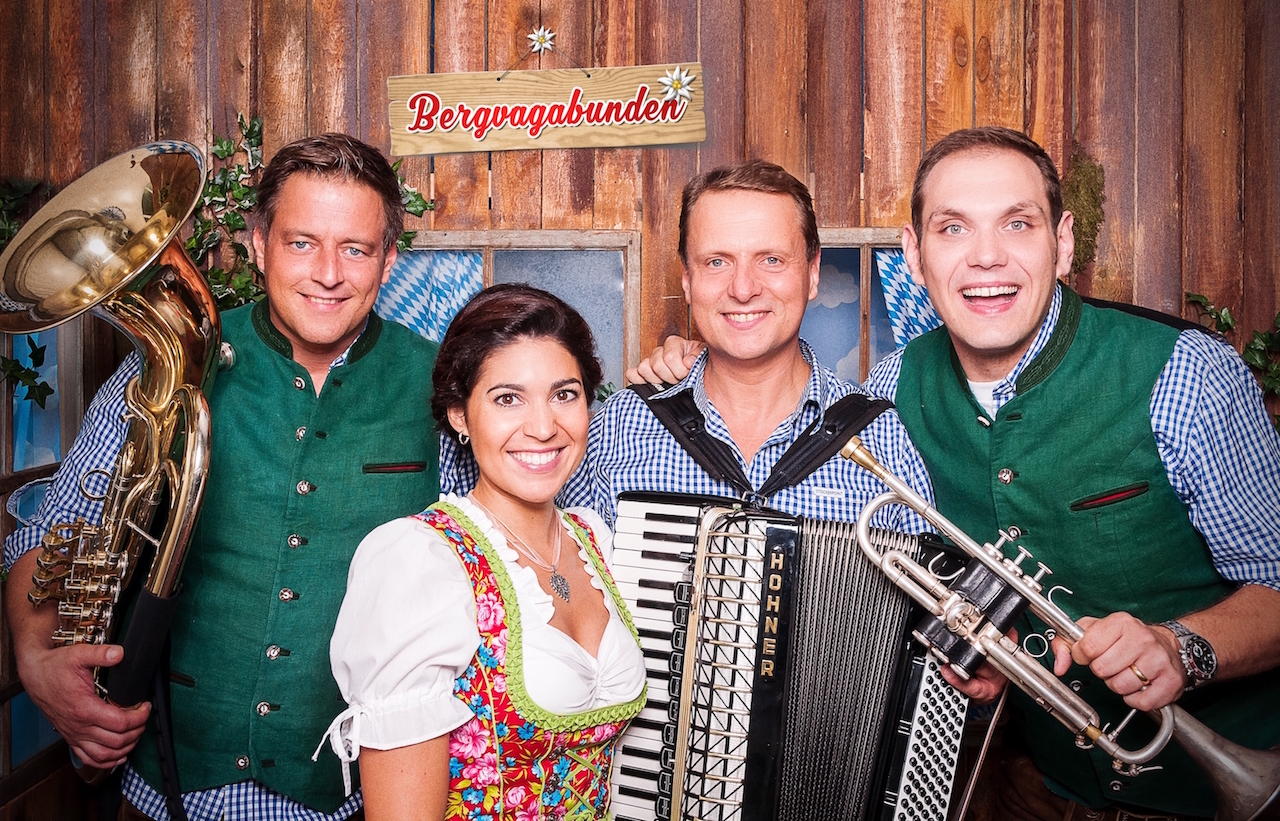 Corporate dinner entertainment in Munich and Berlin
Corporate dinner entertainment for your next event in
Berlin
Dusseldorf
Frankurt
Munich
---
Professional entertainers for your corporate dinner in Germany
Many corporate dinners are held in Germany by companies that host international guests – very often as a welcome dinner during a fair in cities like Berlin, Munich, Frankurt or Dusseldorf. The band "Bergvagabunden" is a dedicated entertainer and provides live music and dancers as professional corporate dinner entertainment.
Our Bavarian dancers live in southern Germany and can be booked for corporate events in Munich. For a gala dinner in Dusseldorf or Frankfurt the musicians will provide you with the typical German atmosphere. Especially in Berlin the Bergvagabunden entertainers know every venue, from Berlin fair to Adlon Kempinski Hotel and Dachgarten Bundestag restaurant. Bergvagabunden band plays unplugged and mobile as well as with its own professional sound and light system – from 2021 on in Grunheide too …
You should serve beer, brezel and schnitzel, while this band serves the best German music has to offer: oom pah, sing a longs and yodeling.
---
You might also like to read about entertainment artists in Germany or corporate events entertainment agency in Germany.
At a dinner you get closer to each other. You get to know each other, learn about each other's business and can celebrate in a relaxed atmosphere. That's why a dinner is a great way for companies to build loyalty with providers, suppliers and customers.
---
Reasons
Corporate dinners are held by companies for a variety of reasons. Among the most typical causes are:
To commemorate business accomplishments: Corporate dinners are a fantastic opportunity to honour significant business accomplishments. They can serve as a means of praising staff members for their diligent work, highlighting individual accomplishments, and raising spirits.
To establish connections: A wonderful approach to establish connections with investors, partners, and clients is through corporate dinners. They can offer a chance for casual networking and chat, which can foster rapport and trust.
To encourage the corporate culture: Business principles and culture can be promoted through corporate meals. They may be a means of showcasing the character of the business and fostering a feeling of camaraderie among staff members.
To produce leads and revenue: Organising business dinners can help you increase leads and revenue. They may serve as a means of acquainting prospective clients with the company's offerings and generating curiosity about them.
Corporate dinners can be a great way to spend time with clients and coworkers in addition to these other benefits. They can serve as a means of establishing rapport, having fun, and breaking the ice.
Entertaining
The allure of corporate dinner entertainment is its capacity to furnish attendees with an unparalleled and unforgettable encounter. Businesses may express their gratitude to staff members and customers while also making a good impression by offering top-notch entertainment. Corporate dinners can incorporate a wide range of entertainment options.
Several well-liked choices consist of:
Live music: A lively and celebratory environment can be produced by live music. It may also be a means of exhibiting regional talent.
Seriousness: Using comedy to break the ice and get people laughing may be quite effective. It may also be used to foster a looser, more conversational mood.
Magic: Using magic to entertain guests can be entertaining and enjoyable. It may also be used to evoke a feeling of mystery and fascination.
Psychology: A captivating and amazing approach to amuse people is through mentalism. It might also be used to inspire awe and amazement.
Interactive amusement: Providing guests with interactive entertainment is a fantastic way to engage and interest them. It could also help to make the encounter more unforgettable.
The audience, the corporate dinner's overall tone, and the company's culture should all be taken into account when selecting the entertainment for the event. Not only is it crucial to reserve entertainment well in advance, but popular performances tend to sell out rapidly. Businesses may guarantee that all attendees have a great time at their corporate dinners by selecting the appropriate entertainment.
---
Thank you for your interest in this site about corporate dinner entertainment.