This page is about corporate event entertainment in Munich
---
Entertainment for a corporate event in Munich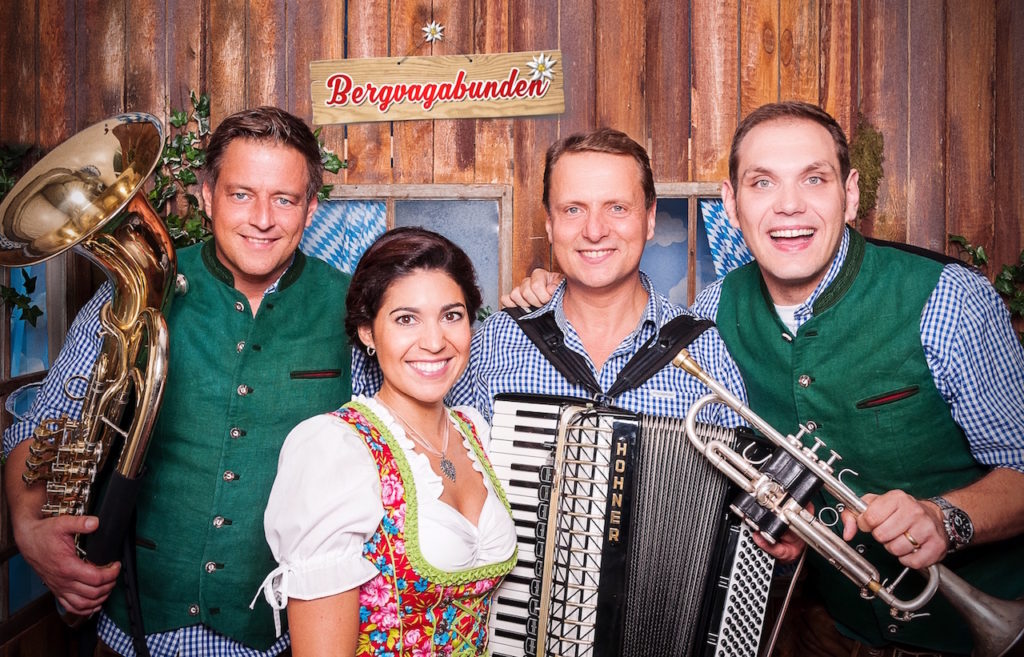 ---
Some of the world's leading fairs take place in Munich, with lots of corporate event entertainment. The city becomes a meeting place for experts from all over the world. We are experts as well: we know how to play the oom pah! If you organize an event for your successful company, you will need a successful band – and that would be us. You always do a great job, and so do we. We provide a typical program from a Bavarian Oktoberfest band wearing our famous lederhosen to dancers and a DJ – or maybe you need just one accordionist or different entertainers? Write us and we will offer you the best there is.
---
---
Bands, musicians & entertainers for hire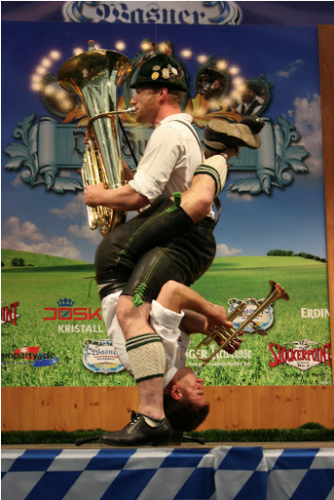 We Bergvagabunden are one of the best bands for hire in Munich. As professional Bavarian musicians and entertainers we are experts for your German themed party, reception or event. Our catalogue includes the most authentic bands and musicians there are. We play Bavarian brass music, but as well popular international classics – always with that famous oom pah feel. As a genuine Bavarian party and function band we play as well unplugged and mobil in a beer garden or terasse as fully equipped with our professional sound system in one of Munich's many bierkeller or brauhaus / brewery tavern. (Read more about Bavarian bands …)
---
Your personal entertainment agency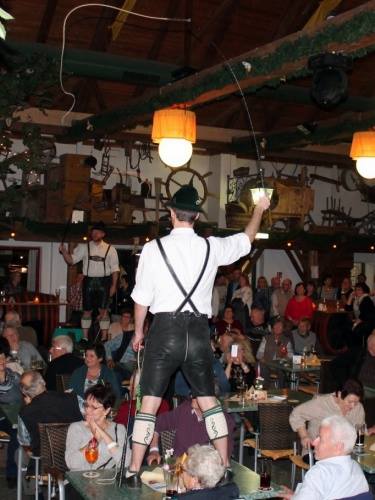 We are your professional entertainment agency with dancers, bands, DJs, singers, musicians, entertainers and artists based in Munich – available to book or for hire. Enjoy your next corporate or private event  with one of the most reliable entertainment agencies in Munich, and listen to the sound of an accordion, baritone, trumpet, clarinet, and of course to our singer when he does the yodel.
By the way – do you know our song "Sunny Yodel"? Feel free to share it on facebook!
---
Corporate event in Munich

---
You plan a corporate event in Munich, like product launch, road show, kick off, incentive, dinner, fair, get together, conference, presentation, reward, reception or exhibition? You might want to surprise your attendees or participants with unique and genuine entertainment artists, musicians, entertainers and bands that will bring a lot of fun with their sing a longs and their Bavarian shows. Don't be shy and contact us with your enquiry, we promise to make you happy with our corporate event musicians!
---
Lederhosen dancers

---
It is world famous, it is sexy, it is not vegan – and it is 100% Bavarian. The lederhosen is a symbol  for German tradition, and the Bergvagabunden lederhosen dancers provide typical slap dance (the so called Schuhplattler) and whip cracking.
If you book our lederhosen dancers for your event in Munich, your people will love you. Guaranteed. (Read more about Schuhplattler / Bavarian dancers …)
---
Event entertainment rental

You want it all? There is more than music and dancing. We would not say it is really necessary – though it is very nice! We provide event entertainment rental in Munich: rent or cow or one of the other fun elements …
---
Venues in Munich for meetings, incentives, conventions, receptions and events
For every kind of event (like a reception) you will find your perfect venue in Munich – just have a look at the list with the 10 best venues in Munich for meetings, incentives, conventions and events. Castles, cabins, ballrooms, clubs, restaurants or halls – this list covers all kind of venues.
---
Thank your visiting our site about corporate event entertainment based in Munich, where we try to inform you about german bands, e.g. as wedding entertainment or party entertainment. www.bergvagabunden.com provides party entertainment hire, like an oompah band or lederhosen dance all over Germany and the world. We are entertainment agents: our agency provides corporate entertainers.
Bergvagabunden are entertainment artists based in the capital of Bavaria. If you need entertainment artists or musicians for a corporate dinner near our river Isar you came to the right source. We provide the best corporate event entertainment north of the Bavarian alps. As a professional oktoberfest band we are not only invited to the third largest city in Germany. By the way: did you know that what we call polka band  is called um pa pa or umpapa band or even oom pa or oom pah or oompah band? Here in the 12th largest city in the European Union we are local artists of a population of around 1.5 million. As Bavarian show acts we always listen to Bavarian music – when we are not watching TV to see our favorite football club winning the UEFA Champions League. We Bergvagabunden are most often booked / hired during a fair, and provide live music at corporate event venues in Munich like Augustinerkeller, Hofbrauhaus, Pullman Hotel etc  
✔ event entertainment
✔ bands and musicians
✔ lederhosen dancers
✔ corporate dinner
Jetzt bewerten!
[Total:

1

Durchschnitt:

5

]