German oktoberfest band in London

Looking for a german oktoberfest band in London?: Book the bavarian band Bergvagabunden for your oktoberfest in London! As a typical bavarian oom pah band based in Germany these musicians play at a german themed party in a pub or a traditional bierschenke.
Find your performer
If you plan a german bier night in London / England and need a oktoberfest beer hall show and live music entertainment just send your enquiry. Bergvagabunden is a live band for hire from Germany for private parties and public events with lots of sing alongs like "Ein Prosit der Gemütlichkeit".
---
How to book and for what price?

After you have sent your enquiry with the essential details (date, time, city, venue, number of guests) you will receive an email with an offer. You will kindly pay the first half immediately and the second half one week upfront. The band usually travels by plane, so you will have to provide sound and light. If necessary, Bergvagabunden could come by car and bring their own sound system.
Playing in London always takes 3 days, therefor the band needs single rooms before and after the gig in London.
---
Example video of a popular polka
---
What kind of music to play in the UK?
This will never change: every oktoberfest – no matter where – begins with traditional bavarian music. You can expect polkas (so called oom pa music) and waltzes from Bavaria, Tyrol and Upper Carniola – along with famous yodeling songs.
Because contemporary German songs (e.g. by Helene Fischer, Andreas Gabalier etc.) are not known in the UK, Bergvagabunden play popular british songs (e.g. Wonderwall, Those were the days my friend etc.) in their bavarian sound – the so called "oom pop".
After that, the Bergvagabunden become a party band in London with international hits and Britpop.
---
What about Birmingham, Manchester, Leeds?
Will this band only play in London or as well in Birmingham, Edingburgh, Manchester, Cardiff, Leeds or Belfast?
If you plan a corporate event in cities other than London, Bergvagabunden will not be able to drive to your city, but to fly. So you will have to provide sound and light. But generally it is doable, no problem …
---
Example video as Bavarian party band for a corporate dinner
---
Why London?
First of all: it is easy the get there. With two international airports nearby, it is a short flight from Germany. Secondly, there are very many international companies in London that organise an Oktoberfest for their employees or their partners. And there are many successful people in London who can privately afford a band from Germany.
---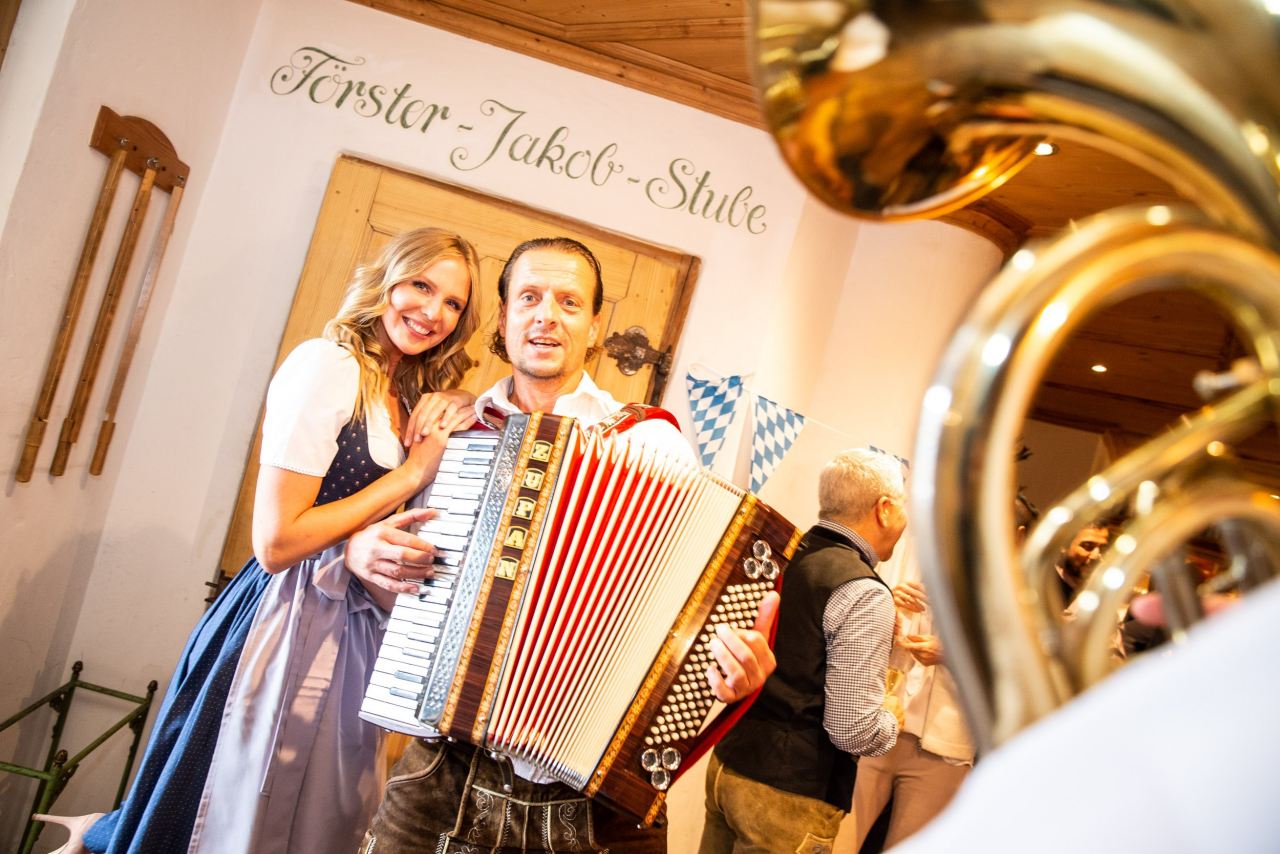 ---
Are there also Oktoberfest bands from the United Kingdom?
Yes, there are British brass bands in lederhosen. They have hardly any travel costs and are cheaper than a German band. We Bergvagabunden are happy to arrange an Oktoberfest band from England for you.
However, this is a different concept: some may find they are not suitable as a function band for an Oktoberfest, because their music is not authentic (no yodel, no accordion) and the bands often are not party bands. But: as a show act, UK based musicians for an oktoberfest are very suitable – why not, when it is fun?
---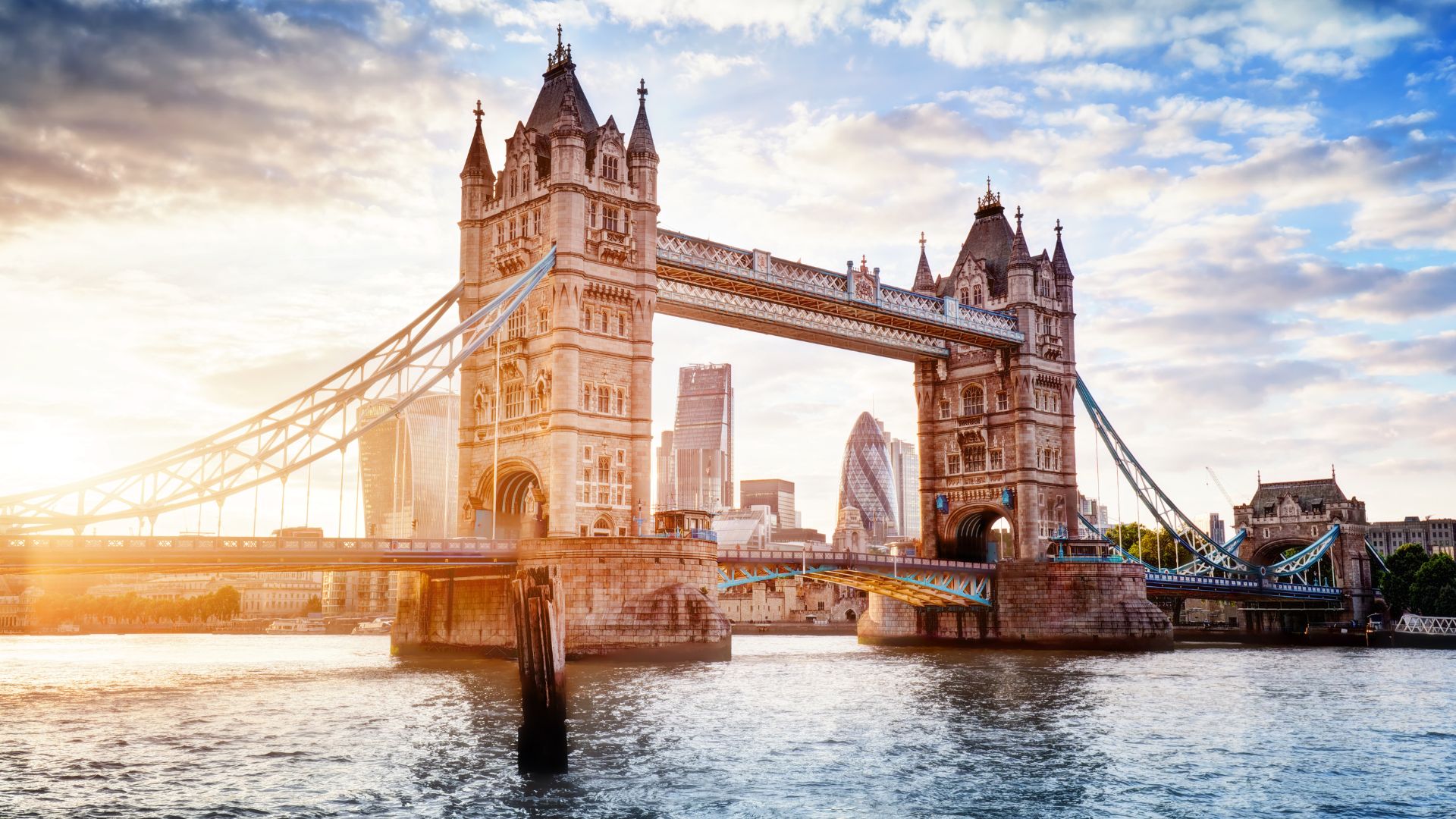 Things to know about London
The capital of the United Kingdom of Great Britain and Northern Ireland has a population of 8.8 million (urban area 10.7 million) and is one of the largest cities in Europe, covering 1 572 km2.
London is the financial, commercial, administrative and political centre of Great Britain as well as an important industrial city. With around 86 % of the workforce, the service sector is the most important economic sector.
Together with New York, London is the world's leading financial metropolis; however, a large number of foreign banks, among them the most important in the world, illustrate its still outstanding position as an international financial centre (London Stock Exchange).
London's position in the insurance sector is also outstanding, especially in the insurance of maritime equipment, ships and aircraft (Lloyd's). Banking, finance and insurance, together with business services, are among London's fastest growing industries. The spatial centre of the banking, insurance and stock exchange industry is the City of London, the Square Mile (with an area of 2.9 km2 only slightly larger than a square mile).
In the neighbouring City of Westminster to the west, the "West End", headquarters of national and international corporations as well as offices of the advertising, film and television industries are concentrated alongside government functions with Parliament. London is also an important congress city. With (2017) 79.9 million overnight stays and over 19 million visitors, London is one of the most popular city break destinations in the world.
Thank you for visiting this site about a German oktoberfest band in London …