Oktoberfest band in Dublin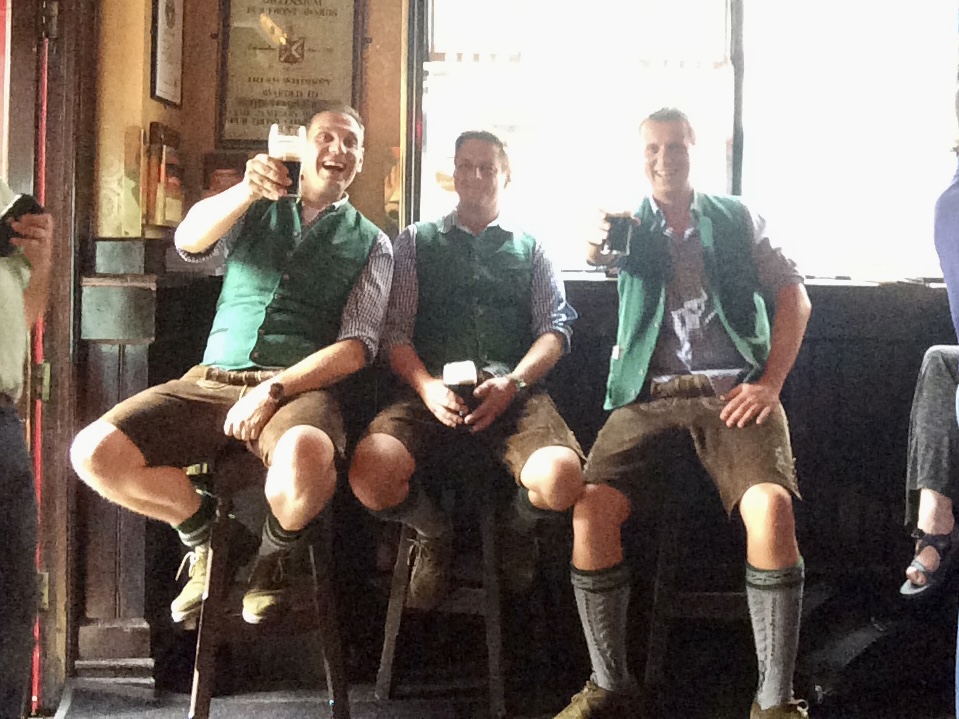 Looking for an oktoberfest band in Dublin / Ireland? The bavarian  band "Bergvagabunden" from Germany offers real oom pah entertainment you can trust! Listen to the typical songs from the world famous oktoberfest in Munich / Bavaria. You can book this band directly – no agency necessary. Just send your enquiry via email. 

Entertainment
The band's beerfest entertainment programm includes typical traditional bavarian oom pah music as well as german and international contemporary dance songs …
German Oktoberfest band for hire in Dublin
This Oktoberfest band is based in Germany. Direct flights to Dublin make traveling to Ireland pretty easy for them. The guys bring their instruments – all you have to do is provide a professional sound system and lots of beer. Using a professional midi accordion this band's sound is very strong and full – even if the singer and accordionist performs on his own! So if you are looking for a real authentic (one – two – or three piece) Bavarian band for hire the Bergvagabunden could be a very good choice.
---
Example video of Bavarian music
Example video of an oktoberfest themed corporate event
Things to know about Dublin
Dublin (Irish: Baile Átha Cliath) is the capital of the Republic of Ireland and is located at the mouth of the Liffey River in Dublin Bay on the Irish Sea. The city has a population of approximately 550,000; 1.17 million people live in the urban agglomeration (about a quarter of the population of the Republic of Ireland).
The Liffey divides the city into northern and southern halves. The main sights are in the southern part: the first Bishop of Dublin, Dunan, founded the now Anglican Christ Church Cathedral in 1038, which was rebuilt as a transept basilica from the end of the 12th century, extended in the 14th century and restored in 1870-78.
Nearby is Saint Audoen's Church, the only unaltered church from the Middle Ages (13th century). Saint Patrick's Cathedral (founded in the 11th century), also Anglican, was also begun in 1213 in early Gothic forms with a transept (14th-century side west tower with a helmet of 1739); its present appearance – at 93 m long, it is the largest church in Ireland – is mainly determined by the restorations of 1864-69.

Thank you for visiting this site about a band for an oktoberfest in Dublin …