Bands for an Oktoberfest 2021 & 2022
---
---
Why book oktoberfest bands ?
What are real Oktoberfest bands? There is a picture in a lot of peoples minds, what Germany looks like, what Germans eat and drink as well as, how they are dressed. And of course that picture is not quite correct. Than again, if someone wants to see this kind of Germany, he will find it. To lots of  people, Germany looks like Bavaria. People walk around in Lederhosen all the time. Of course, they dont really work, bur on their own farm with cows and sheep and they drink huge amounts of beer all day long. Fine – nothing wrong with it. The reality is, that Germans do work hard in a high industrial country, if the show up with a beer at work, they will get fired. The most surprising to foreigners is, that even the garbage- men as well as the street sweepers, are Germans.
---
---
So – what is real Germany?
Germany is all of it. It has old traditions, such as Bavarian hum papa music, lots of people do dress in Bavarian – specially in the Bavarian country side. Yet, even for modern, young Bavarians, ist would be normal, to show up at a wedding or any other kind of event, in traditional clothing.
Who would think, traditional clothing is rather for simple minded people, is wrong. 
Wearing traditional clothing, in Bavaria ha a lot to do with Bavarian pride. "I am Bavarian, this is where I come from and I show everybody by the way I dress."
And there is no social barriers. The mayor  will dress like this, just like an international businessman or a politician, and a farmer will too. And all of this, is happening in real live.
---
Oktoberfest band and feeling
People who come to Germany, want to see the country, the way they think it should look for them. Which is totally legitimate. Who ever will travel to Japan, will not really want to see the industrial part, but the city of Tokyo with all of its attractions.
Or the city of Kyoto with all of its historical places. And many people who come to Germany, want to see that kind of Germany, they learned about in school. Mountains, people walking around in traditional clothes that listen to Oktoberfest bands as the drink, eat or party at night. Bavarian bands for hire? You just found the right page.
---
---
Apres Ski Band
Want to go skiing in Germany? Cool, there are lots of possibility's around the Bavarian alps. And lots of hotels that have the Bavarian look outside and inside. Waiters are dresses in Lederhosen and waitresses in a traditional kind of clothing, called "Dirndl". And of course, nothing would be complete, without the typical Oktoberfest band. An Apres Ski band or Oktoberfest band, this time and age, is not only, what it used to be. 
The cliche shows some guys in the corner playing Bavarian music, kind of just for themselves and drinking lots of beer. Nowadays, the expectations towards Oktoberfest bands are  a lot higher. Ant the "Bergvagabunden" match these expectations. Of course, a professional Oktoberfest band must be able, to also act in the background, like during dinner. Professionals must not be the "popstars" up front all the time. But when the time comes, the Oktoberfest Band can turn into a real party band.
---
---
Bavarian party as can be
After a good meal and a few excellently brewed Bavarian beers, your guestts most likely will be in the mood to party. But party to the sound of "Hoomapa"? Hoompapa – that's "the name of the game".
The "Bergvagabunden" can turn any song that people know, into "Hoompapa". And you bet, your guests will enjoy that. Standing on benches and tables in traditional clothes, with traditional food and a traditional Oktoberfest band. It's jus fun as can be.
By the way, talking about clothing; in most Bavarian city  there are places to rent that kind of traditional clothing. Much better, just buy it and take it home as a souvenir. People will get a kick out of it, seeing you walk around in Hong Kong, in Tokyo or New York, wearing Bavarian clothing, just like the world famous Bavarian dancers.
Or even your friends and family, will just love it. This kind of music entertainment factor, should not be underestimated.
---
---
For hire, everywhere in the world
You want to hire a real German Oktoberfest band to come to wherever you are in the world? Most Oktoberfest bands would most likely turn you down, for they do not have traveling experience or speak no other language but German. The Bergvagabunden are traditional. What seems a bit less traditional, is the fact that all of them speak perfectly English and french, they comfortably adapt to any other country's ways of behavior and manners. As in international Oktoberfest band the spend more time at airports than at home. The international booking business, is just their thing.
---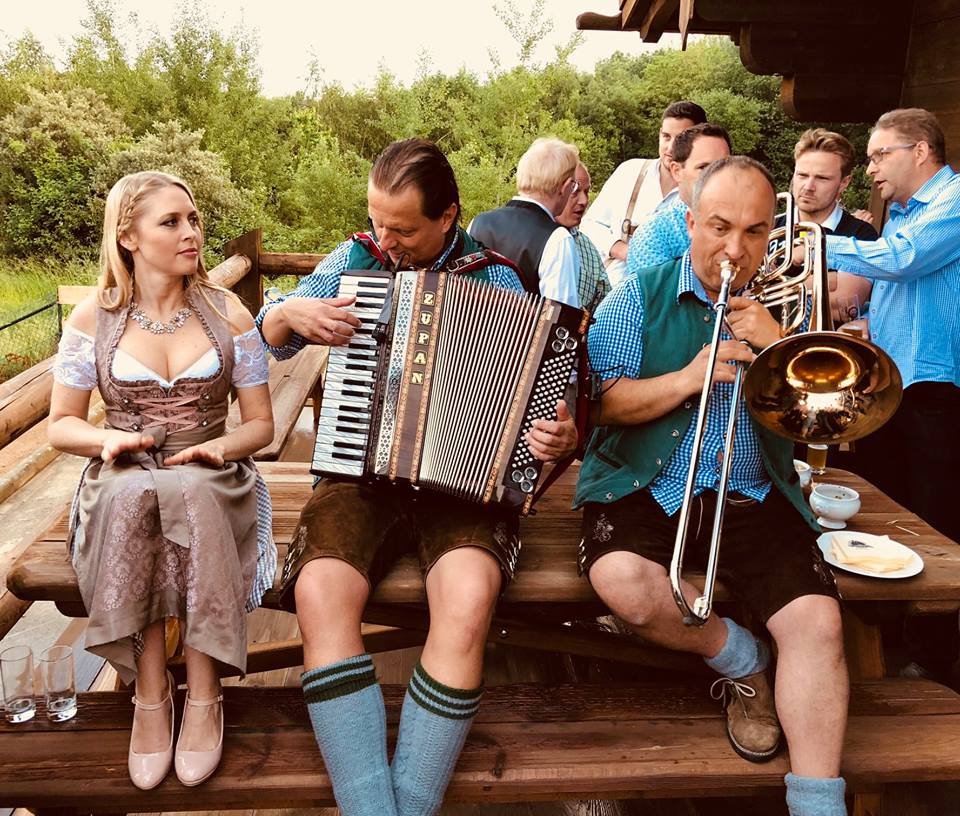 ---
Want to know more? You might find interesting:
---
Local band or real German?
Confronted with the question, weather to hire al local Oktoberfest band or a real German Oktoberfest band, we'd highly recommend to go for "the real thing". Just as an example: There are some Country bands in Germany, looking like cowboys, dressing like cowboys, playing country music, but still they'd sing with a strong German accent. It just does'nt come across real.
---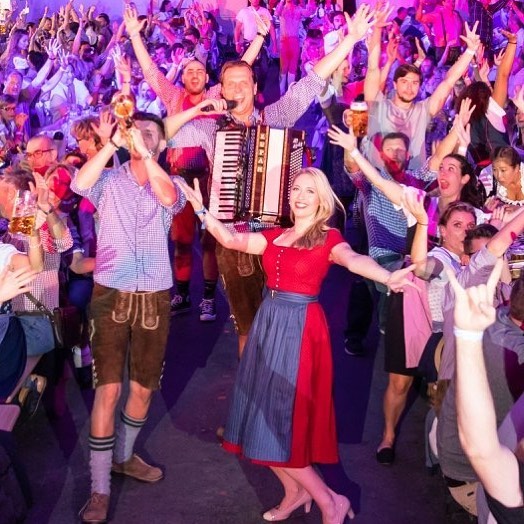 ---
So if your Bavarian Oktoberfest Band sounds Bavarian, but everyone can see, the could come from Beijing or for Ghana, the'd be always something missing and it would most likely turn out as half the fun.
Real Oktoberfest  Band from Germany
---
Jetzt bewerten!
[Total:

0

Durchschnitt:

0

]