Corporate events in Geneva Switzerland
Perhaps you have corporate events in Geneva, Switzerland? Geneva is the seat of numerous international organizations, including the European center of the UN and various sub-organizations such as the International Labor Organization (ILO), the World Health Organization (WHO), the International Telecommunications Union (ITU), the headquarters of the World Trade Organization (WTO), the International Academy of the Environment, furthermore the International Committee of the Red Cross (ICRC), church organizations (World Council of Churches and Lutheran World Federation).
---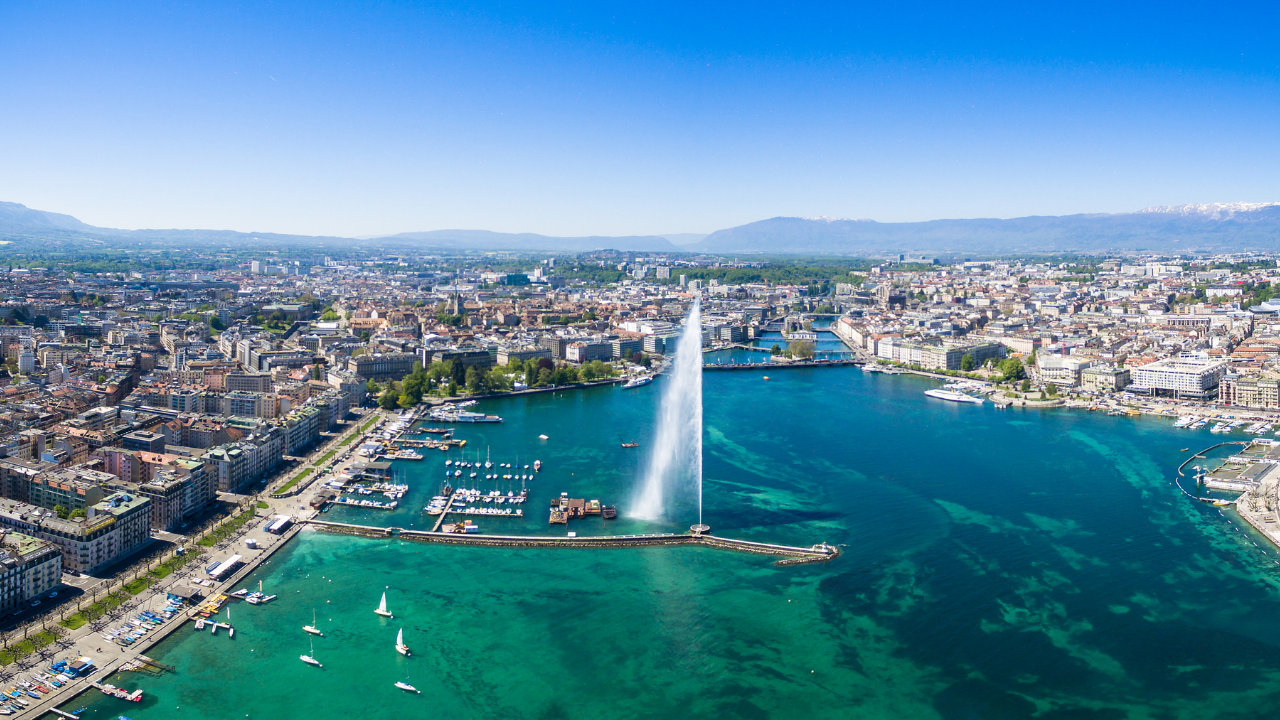 ---
Northwest of Geneva in Meyrin is the research center CERN. Geneva is a major banking, commercial (with trade fairs and exhibitions, including the annual International Motor Show), transportation, and tourist center, as well as an international convention and conference center. After London, Geneva is the second largest oil trading center in Europe; together with Singapore, Houston and New York, the two cities are among the most important transhipment centers in the world.
Industry includes especially mechanical engineering, manufacture of watches (since the 16th century; promoted in the 17th century by Huguenots and spread through the Jura, today specializing in the high-price segment) and precision instruments, clothing, food and beverage, graphic arts (numerous publishing houses), chemical and pharmaceutical industries. Cointrin International Airport, northwest of Geneva, is the second largest in the country.
---
Corporate entertainment with live music – bands – DJs

---
For your professional event you need professional corporate entertainment. Traditional musicians and dancers from Switzerland with their world famous "alphorn" are very popular among international guests. But also DJs with modern music and live acts are very popular. Not only in Geneva but in whole Switzerland the Oktoberfest is celebrated. Hire original Swiss bands with yodeling and a very pretty singer for your Oktoberfest or beerfest.
Swiss oom pah bands for hire in Geneva
Find Swiss oom pah bands for hire in Geneva at bergvagabunden.com! We provide
live bands
musicians
singers
dancers
alphorn players
DJs
sound&light
Organising business events in Geneva, Switzerland, provides a special fusion of sophistication, elegance, and global appeal. The city is a great place for business meetings of all sizes because of its advantageous location, first-rate infrastructure, and wide range of cultural attractions.
A Global Centre
Being a major hub for innovation, economics, and diplomacy, Geneva is an obvious choice for multinational corporations looking to establish connections with a variety of stakeholders. In addition to the United Nations and other international organisations, the city is home to the headquarters of several global firms.
Sophisticated Locations and Lodging
Geneva offers a remarkable array of locations for business gatherings, ranging from opulent hotels and historical sites to cutting-edge convention centres and distinctive event areas. There are hotel options in the city to suit every taste and budget, so you can be sure that your guests will have somewhere chic and cosy to stay.
Amazing Landscapes and Outdoor Adventures
Geneva's stunning setting for business gatherings is made possible by its proximity to the Alps and Lake Geneva. From relaxing strolls along the lakefront to breathtaking boat tours and treks in the mountains, the city provides a wide range of outdoor activities.
Delights from Culture
The cultural landscape of Geneva is diverse and dynamic, featuring top-notch theatres, opera houses, and museums. Additionally, the city holds a lot of festivals and events all year long, giving business visitors lots of chances to experience the local way of life.
Excellent Cooking
The cuisine of Geneva is well known for its multiculturalism and focus on in-season, fresh ingredients. The city is home to numerous fine dining venues, including one with a Michelin star, as well as a large selection of informal restaurants offering both international and regional delicacies.
Simple to Reach
With direct flights to locations in Europe, North America, Asia, and the Middle East, Geneva's international airport provides excellent connections to major cities worldwide. Travellers may easily navigate the city's well-functioning public transit system and discover its several neighbourhoods.
In conclusion, there are many advantages to holding business events in Geneva, including the city's sophisticated settings and international vibe, as well as its breathtaking landscape, rich cultural heritage, and mouthwatering cuisine. Geneva's robust infrastructure and global connectivity only serve to increase its attractiveness as a venue for business meetings.
---
Thank you for visiting this site about corporate entertainment in Geneva Switzerland.