Bavarian dancers in Munich and Berlin
Bavarian dancers are often booked for events in Germany (Munich, Berlin etc.). International guests love to see the world famous "Schuhplattler" that can be described as a knee dance or lap dance, a traditional German folk dance from Bavaria (southern Germany) and Tyrol (western Austria). But not only in Bavaria and Tyrol people like Bavarian dancers, there are groups all over the world, for example the Bavarian folk dancers Schlierachtaler (https://www.bavariandancers.org) in New York city. Here in Germany Bavarian folk dance is mostly popular in the Alps where international tourists enjoy the traditional dance in lederhosen. On the other hand there are many corporate events all over Munich during fairs like BAUMA and others. Companies from India, China or the USA book Bavarian dancers for a performance at their stand or their corporate dinner in places like the Augustinerkeller, Hofbraukeller etc.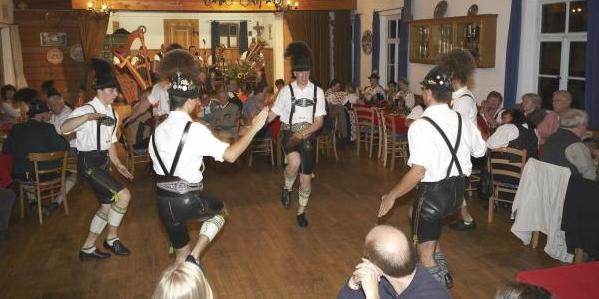 What does schuhplattler mean in English?
"In this dance, the performers stomp, clap and strike the soles of their shoes (Schuhe), thighs and knees with their hands held flat (platt)." – Wikipedia
---
Bavarian dancing for hire
The Schuhplattler is the most popular form of Bavarian dancing. It is big fun, especially when you suffer high blood pressure. Be sure to try to dance a Schuhplattler when you are in Germany. In Munich there are public events with Bavarian dancing where you can join the locals, check it out, it is big fun, and don't have too much beer, schnitzel and bretzel before you enter the dance floor.

German folk dance for venues in Munich

Video: Two Bavarian dancers
Video: Group of male and female dancers plus public dancing
Video: Modern Bavarian dancing